QUESTIONS ANSWERED
Updated
SOSIndex is a community service provided by CyberPASS using data from student responses. With over 1.3 million questions answered by students across Australia, we know what students do and don't know about online safety.
CHOOSE A MODULE TO SEE THE DATA

YEAR GROUPS
WHAT IS THE SOSINDEX?
The SOSIndex provides school leadership, teachers and parents with insight into where potential online safety skills and knowledge gaps may exist. It is collated from a huge sample set of students across Australia and UK, sourced from CyberPASS.
HOW DOES IT HELP?
In CyberPASS students answer interactive questions mapped to competencies with the goal of identifying skill and knowledge gaps and providing students with relevant learning resources to address these gaps. By measuring the number of attempts taken to correctly answer questions about a competency, we can ascertain what students already knew and what they learnt after reviewing the education resources in CyberPASS. We realise that CyberPASS is not a panacea for building safe and responsible users, but it does provide critical data on which to measure and build. If you'd like to learn more or get a licence for your school go to CyberPASS here.
READING THE DATA
Competency Description: Identifies knowledge or a skill required by students, which is assessed via a randomised question bank in CyberPASS.
Bar Graph and Attempts: The data for each competency is displayed as a bar graph showing the total percentage of students that answered the question correctly on 1st attempt and after 3 attempts on aggregate.
Competency Breakdown: Clicking the "Details" button will display a complete breakdown of the various elements that make up that competency.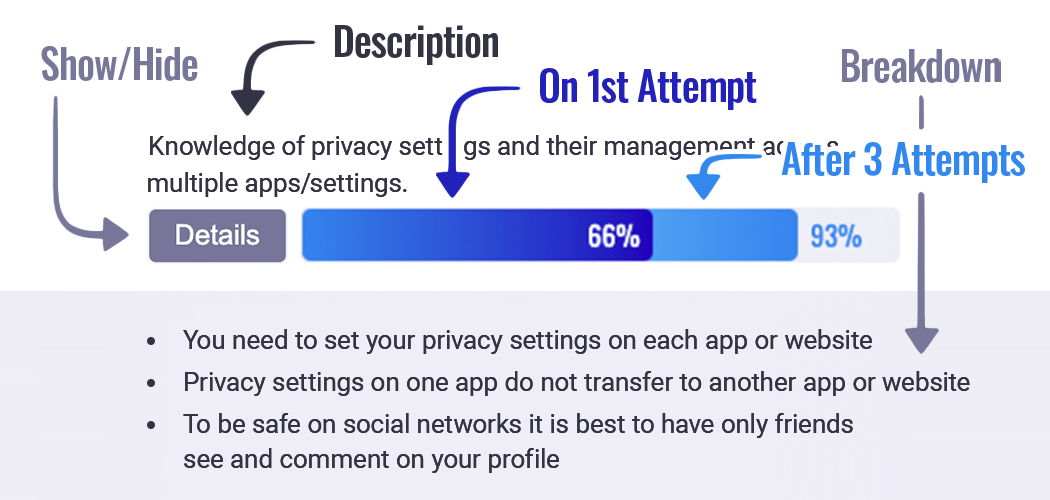 WHAT THIS DATA TELLS US
In the example above we assessed student awareness of the need to set each apps privacy settings separately, i.e. each app has its own privacy settings and these are also separate from device privacy settings. The data demonstrates that 66% of students were already aware of this, and a further 27% became aware after reviewing CyberPASS resources. But this also means that 7% of students in this cohort still do not understand the need to set each apps privacy settings separately. In a school of 500 students that would mean 35 students are unaware of this critical online safety and security issue. Through the CyberPASS teacher reporting dashboard these students can be identified, allowing teachers to provide additional learning support.